MAGGIE VALLEY — When Maggie Valley leaders open the door to food trucks next month, the next challenge could be luring vendors to the community.
There are nearly a dozen food truck businesses licensed through the Haywood County Department of Health and Human Services, but many indicate they are satisfied with the locations they already have — places where regular customers know where to find them and where fees are cheaper, if charged at all.
Others, however, are interested in what setting up in Maggie Valley could offer.
Tyler Massey is just getting his food truck operational and said he would certainly look at Maggie Valley.
Massey's Mobile Food menu includes hand-patted burgers, Philly cheesesteak, nachos made in house, hot dogs and chicken tenders.
"It's your basic American food," Massey said. "I've worked in food quite a while, and so has my wife, so we won't have to worry about labor."
Massey said he would like to stay in Haywood County and eventually add breakfast items once the lunch and dinner time slots are down pat.
Leah Fowler co-owns Fuego Food Truck where lunch and dinner offerings rotate. Core menu items include beef sliders, buttermilk fried chicken sliders, a BLT wrap and blackened shrimp tacos. There are also hand-cut fries, house chips and a Honeycrisp apple and baby spinach salad.
"I think having a food truck adds diversity to a town," she said. "It's not going to take away from a regular restaurant. It gives people other options and a little bit something different."
Fowler said her small unit maybe brings in $500 to $1,000 a day, and that's if it's open all day.
"We're pretty established on a weekly basis," she said. "We have some time open and could possibly set up in Maggie Valley. It depends on the location and whether there is good visibility."
Fuego has a customer base that follows the food truck's locations through Facebook where people will check out the business Facebook page and drop by as long as they are easy to find.
Mi Montanita serves authentic Mexican food at a regular site in front of Ingles in west Waynesville. Maria Bonilla said she serves lunch and dinner Monday through Friday and opens for Friday and Saturday night dances held at REO's nightclub across the road.
She is not in the market for a new location.
The Holy Cow food truck is operated by Haywood Pathways Center as a social enterprise where proceeds offset the cost of operating the homeless shelter.
Mandy Haithcox is the Pathways Center director and said the food truck provides lunch from 11 a.m. to 2 p.m. Tuesday or Wednesday through Saturday and has private property locations where no fees are charged.
The signature offerings are hand-patted burgers, hand-cut fries, barbecue and the new menu favorite, homemade quesadillas.
"We're at a place where we aren't necessarily making a profit, but we're not losing money, either," she said.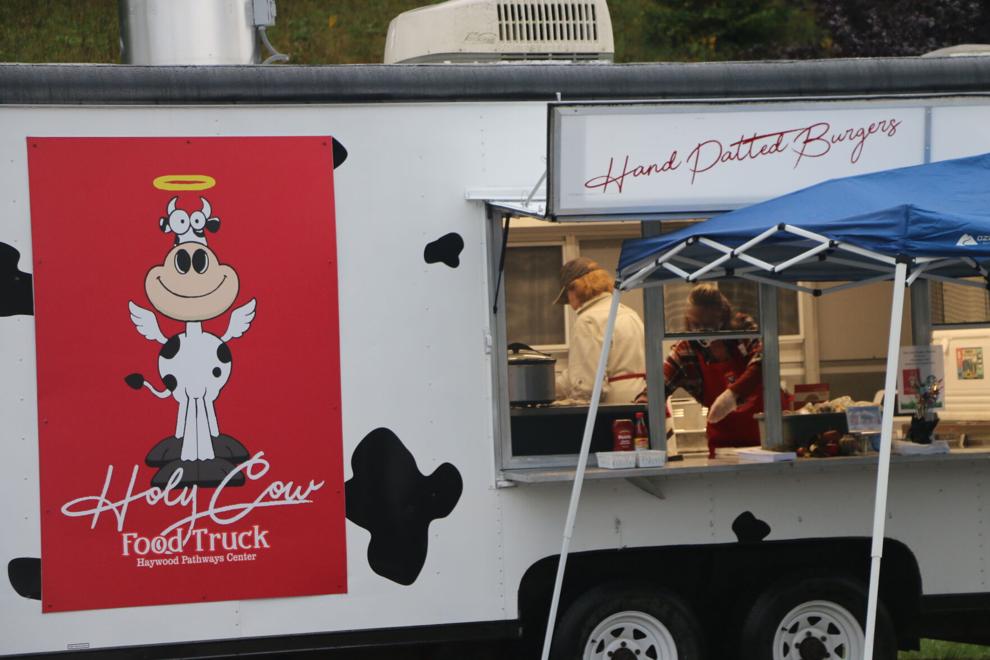 The current schedule takes Holy Cow to such places as the parking lots of Long's Chapel United Methodist Church in Clyde, First Baptist Church in Waynesville, the Habitat Restore parking lot and Creekwood Farm RV park in Jonathan Creek and other places as the opportunities arise.
Business has been brisk at all the sites, she said, and the operations schedule stays full, meaning there may not be an opportunity to set up in Maggie Valley regularly.
"This month, for instance, we only had three openings," she said.
Jeff McLeod with Hit the Pit BBQ said he had been following the Maggie Valley discussion about allowing mobile food units.
"It would be a good spot for food trucks," he said. "We could try it on a Monday, and it would depend on how it went."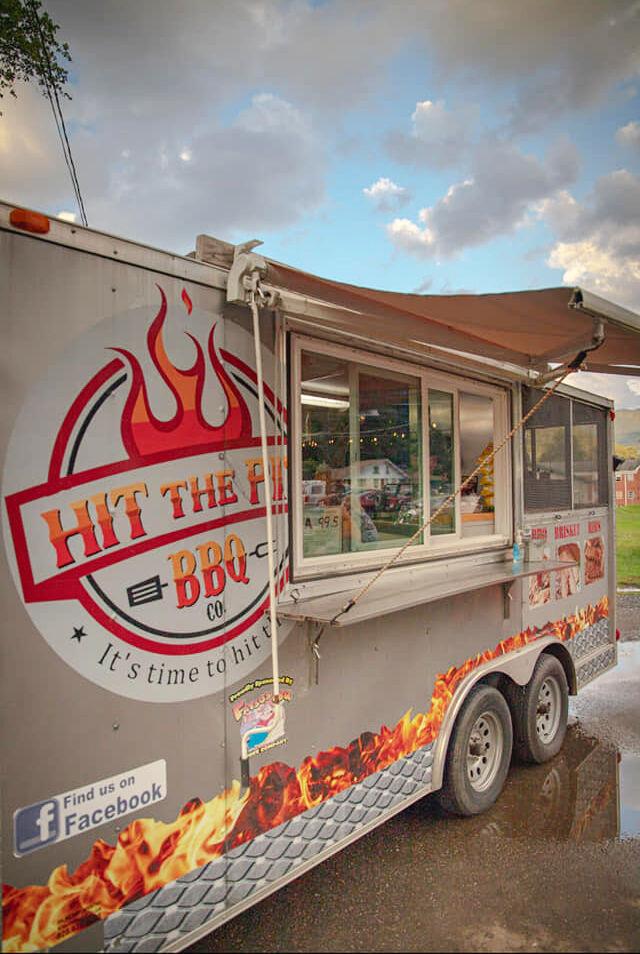 Hit the Pit BBQ mostly offers barbecue, but also has items such as meatloaf, mashed potatoes, a garlic Parmesan chicken wrap, a turkey bacon wrap and plenty of homemade dessert items.
"It's good home cooking," said McLeod, who operates two food trucks, one based in Clyde where the operation's commissary is located, and one near the paper mill in Canton where they usually set up for lunch from 11 a.m. to 2 p.m. Tuesday through Friday.
Appalachian Smoke BBQ owner J.D. Medford said he does quite a bit of business in Maggie Valley, setting up at the festival grounds or Elevated Mountain Distilling.
He wasn't sure about trying something different as winter approaches, though, as he's found people don't come to food trucks when the weather is bad.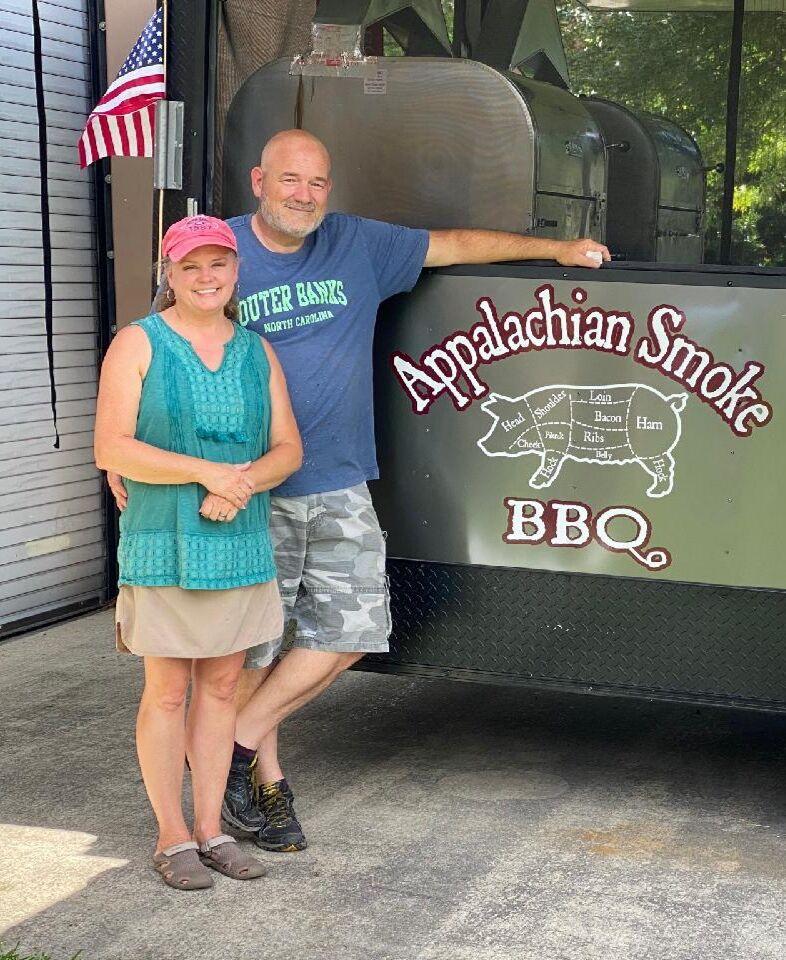 The mainstay offering is barbecue of all sorts, though smoked bologna and spaghetti can occasionally also be found on the menu, he said.
Loyalists can find Appalachian Smoke BBQ set up every other Friday at Dellwood Baptist Church, where the Medfords are members, and lately in Cruso where there is no restaurant and the daytime population has exploded as the community deals with the aftermath of Tropical Storm Fred.
In addition to providing meals, Medford puts out a tip jar where all the tips go to helping flood victims in the county.
"The good Lord provided us a way to make a living with this, but it's meant for us to use it to help others, as well," he said.
Medford got into the food truck business after he lost a job 12 years ago and decided that since he liked making barbecue for his family and friends, he'd open a food truck.
"I've never been more satisfied with anything I ever done," he said.
While helping out in Cruso had taken up a lot of time lately, Medford said he and his wife are always open to trying out new spots, especially someplace close to home, so giving Maggie Valley a try isn't out of the question.
Forke in the Road offers home cooking out of a permanently-located food truck just outside Waynesville city limits. Other licensed vendors include Lenoir Creek Beef & Bakery, Jose's Taco Truck, Harvest Moon Crepes and Pavino's Pizza.
Neighboring counties also have a variety of licensed food trucks.