'Shadow and Bone' | Netflix
'Shadow and Bone' | Netflix
These days, we're all looking for an escape from reality, at least for a couple hours a day, and what better way to do that than to binge-watch the best genre television series this year has to offer? We're more than halfway through the year, and with many productions starting back up again or finally kicking off after lengthy delays, there is even more great science fiction and fantasy TV coming in the next months to tide us all over. From cold wars fought on the moon to superheroes running wild, here is the best sci-fi and fantasy TV of the year.
If you missed last year's roundup and want to catch up, check out the Best Fantasy & Sci-Fi TV Shows of 2020, and if you're in the mood for good stuff no matter the genre, check out the Best TV Shows of 2021.
30 Coins (HBO) 
Season 1. 8 episodes. 
If you're one of the recent converts to CBS's Evil after the first season dropped on Netflix and have been craving more ever since, turn on HBO's Spanish-language horror series about disgraced exorcist Padre Vergara (Eduard Fernández), who teams up with a small town's mayor Paco (Miguel Ángel Silvestre, whom you may recognize from Netflix's Sense8) and veterinarian Elena (Megan Montaner) to solve supernatural mysteries related to the legendary 30 pieces of silver paid to Judas Iscariot for betraying Jesus, seemingly possessed by demonic energy. Their investigations into hauntings, ouija boards, and one absolutely monstrous giant spider-baby reveal a devilish conspiracy 2,000 years in the making.
Miniseries. 9 episodes. 
The first of Marvel's Disney+ miniseries started Phase 4 off with a bang, trapping Wanda Maximoff and a mysteriously resurrected Vision in a small-town sitcom universe, riffing on classic family comedies like Bewitched, The Brady Bunch, and Malcolm in the Middle. When a grief-stricken Wanda attempts to create her own idyllic family life, her creation goes nuclear in more ways than one, and reveals a new facet to her chaotic superpowers. The show is both fun and emotionally affecting, and will have lasting implications for the next stage of the Marvel Cinematic Universe.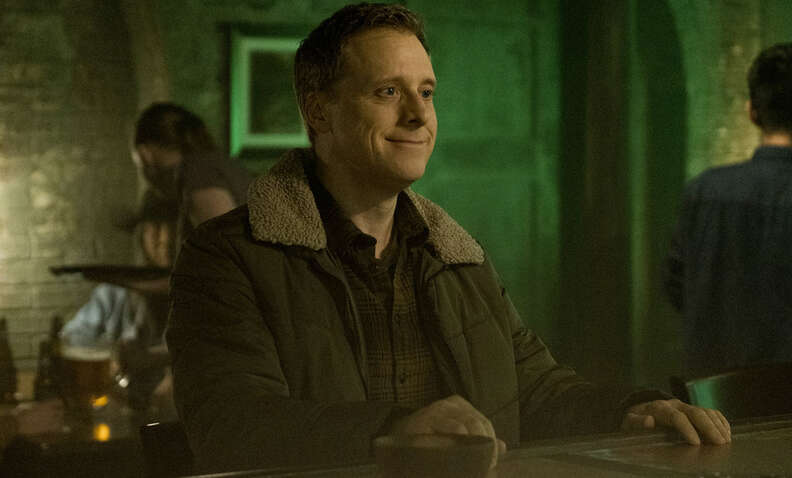 Resident Alien (Syfy)
Season 1. 10 episodes.
When an extraterrestrial crash-lands on Earth after his spaceship is struck by lightning, he disguises himself as a vacationer in a small town, Dr. Harry Vanderspiegle (Alan Tudyk), in order to blend in. There's just one problem: When the town's local doctor is mysteriously murdered, the other residents, unaware of his disguise, elect Harry to be their new medical professional, and Harry has no choice but to agree. Based on the comic by Peter Hogan and Steve Parkhouse, the show is an absolute delight, following Harry as he ingratiates himself with the townspeople (save for one terrified little boy who can see through his disguise), while also searching for the alien superweapon he dropped in the crash, meant to wipe humanity from the face of the planet.
Season 1. 8 episodes. 
We've entered an era of superhero oversaturation, which means that deconstructions of the genre are more popular than ever. HBO's revival of Watchmen was a breath of much-needed fresh air, and Amazon Prime has made a hit out of their lean, mean comic adaptation The Boys. Amazon's newest superhero series Invincible is similar, but balances its disparate tones in an immediately adept way. The animated show, also a comic adaptation, follows young high school student Mark (voiced by Steven Yeun) as he gets his superpowers, descended as he is from an all-powerful alien race through his father, the superhero Omni-Man (J.K. Simmons). But superhero life isn't all fun and games and saving the world, and underneath the show's Crayola-colored exterior lies an uglier, darker, much bloodier side that quickly turns an entire genre upside down.
Season 2. 10 episodes.
Ten years after the events of Season 1, the year is 1983 and the American Space Program in this alternate timeline is in full swing, with more and more astronauts serving on missions to the palatial Jamestown moon base, carrying out scientific research projects, fielding talk show interviews, and trying to keep one step ahead of those dastardly Soviets. Ed Baldwin (Joel Kinnaman) is now Chief of the Astronaut Office, Molly Cobb (Sonya Walger) is ambitious to a fault, and Gordo (Michael Dorman) wants nothing more than to get back into a spacesuit. The second season of the show ups the ante, playing around with Cold War politics in a new technological era, where the dreams of the erstwhile Space Age—cell phones, electric cars, lady astronauts (gasp)—have become an easily attainable reality.
Miniseries. 8 episodes.
When Hazel (Cristin Milioti) runs away from her megalomaniacal tech bro husband Byron Gogol (Billy Magnussen) after being trapped for 10 years inside the simulated-nature campus of his company, she learns, to her terror and chagrin, that Byron has implanted her brain with his newest prototype, a chip that allows him to read her thoughts and see through her eyes as she tries to free herself from him. The darkly comedic show was adapted from Alissa Nutting's 2017 novel, and hilariously and irreverently examines the nature of love, human relationships, and the personhood of sex dolls.
Season 1. 8 episodes. 
The first season of Netflix's adaptation of Leigh Bardugo's bestselling fantasy series introduces Alina Starkov (Jessie Mei Li), a lowly army cartographer from Ravka, a country based loosely on Russia, who learns by accident that she possesses the rare magical ability to channel pure light, making her a powerful (and dangerous) Grisha. In Ravka, Grisha are trained as soldiers and led by General Kirigan (Westworld's Ben Barnes), himself a Grisha with power over darkness and a not-so-secret disdain for the nation's weak monarchy. Meanwhile, a band of teenage criminals from the slums of Ketterdam embark on their own dangerous mission, taking them deep into the heart of Grisha country. By adding in surly fledgling crime boss Kaz Brekker (Freddy Carter) and his crew—characters from another novel in Bardugo's Grishaverse—the show tempers the romance and high court drama of the main story with a parallel crime-caper narrative, weaving them both together by using flashbacks and lots of creative license.
Season 4. 10 episodes. 
In the show's final season, our heroes are divided: Trevor and Sypha are bored with their wandering life on the road, Alucard finds a new calling in defending a small village against monster attacks, Isaac is building an empire of night creatures, and Hector is trapped in a fortress with a trio of vampires led by Dracula's enemy Carmilla. The return of a former ally and the behind-the-scenes machinations of a secretive band of vampires bring new threats against Team Belmont from all sides. Season 4 takes plenty of wheel-spinning and philosophical chatting to get where it needs to go, but it does get there, bringing nearly all of its many characters together for one final showdown against their most dangerous foe yet: Death himself.
Limited series. 10 episodes.
Before getting into why this series is so astounding, I ought to qualify the choice to add it to this list of shows that otherwise have an overt supernatural or science fiction edge. Most of The Underground Railroad—its depiction of American slavery, for one—could definitely be called historical fiction, but the backbone of the show, the settings it creates and the completely fictional underground steam engine that provides the momentum, is fictional in such a specifically fantastical way as to count as magical realism. Based on Colson Whitehead's Pulitzer Prize-winning novel, the show follows Cora (Thuso Mbedu) and Caesar (Aaron Pierre) as they escape a plantation and journey north, using the secret railway as their guide. But they're dogged at every turn by a cruel and obsessive slave catcher (Joel Edgerton), and every stop along the way contains its own subtler but no less dangerous forms of racism and violence. Yet, thanks to director Barry Jenkins' unparallelled eye, the sheer beauty of the show transfixes even against the dread of the brutality to come.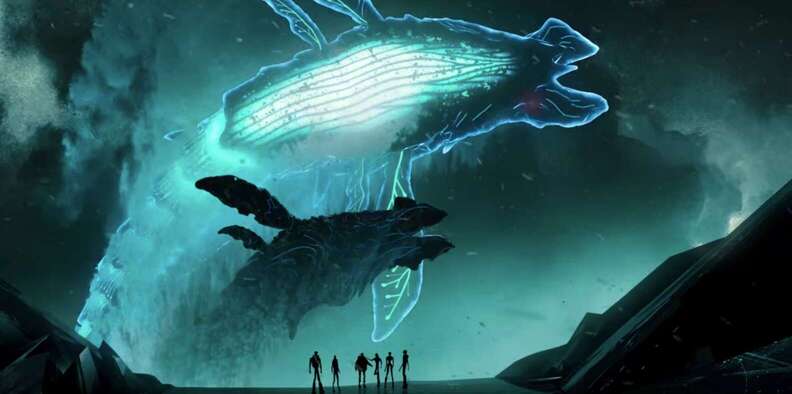 Season 2. 8 episodes. 
Love, Death, & Robots, Netflix's Heavy Metal-inspired adult animation anthology series, is back for a second season, and this outing, while shorter than Season 1 (Season 2 only has eight episodes in total, but don't worry, there will be a Season 3), is still packed with daring, original storytelling and a motley collection of vastly different animation styles. A feast for the senses! Being an anthology show, every episode has a chance to be a hit or a miss, and Season 2 does have a number of episodes that stand apart from the rest, including a gorgeous short about a band of teens racing across the ice to see a pod of alien whales, and a delightfully chilling fable that reveals the true face of Santa Claus.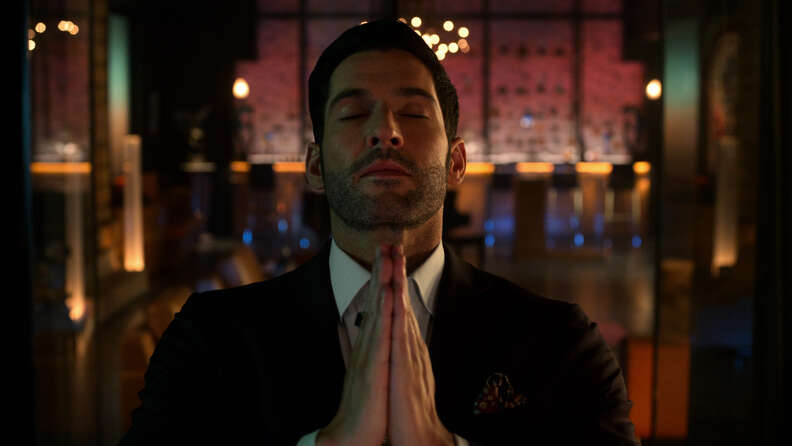 Season 5B, Season 6. 18 episodes.
With Lucifer's rival archangel Michael causing trouble and the God reveal in the final seconds of the midseason finale (played by 24's Dennis Haysbert), it was clear that the show was preparing for bigger things as it moves closer to the end. It soon becomes clear that God is looking to retire and choose a worthy successor, which sets the world of the angels into uproar and sends Lucifer himself into yet another spiral. The bulk of the seasons explore Lucifer's obsession with his father, obsession with proving himself to his father, obsession with proving that he doesn't need to prove himself at all, and the total inability to reconcile any of that no matter how many visits to Dr. Linda he makes. The show retains its trademark over-the-top silliness and charm, but in its best moments, it lifts and expands on the biblical stories that inspired it in the first place.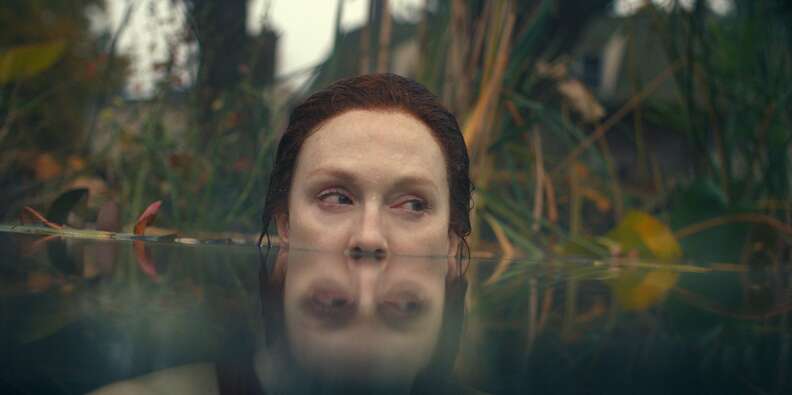 Miniseries. 8 episodes. 
Lisey Landon (Julianne Moore) has been a widow for two years since her husband, the famous novelist Scott Landon, died, and her home is overrun with boxes and crates of his books, writing materials, and unpublished manuscripts, the latter of which is highly desired by Professor Dashmiel (Ron Cephas Jones), who hounds Lisey at every opportunity. Procrastinating on her cleanup, she and her sister Darla (Jennifer Jason Leigh) attempt to care for their nearly nonverbal sister Amanda, who speaks in coded nonsense and seems to reside in a world totally apart from our own. Dashmiel sics obsessive Scott Landon fan Jim Dooley (Dane DeHaan) on Lisey to try to wear her down, but Jim's attempts to liberate Landon's stuff become increasingly more violent. When Lisey finds a hidden message from her late husband promising to send her on a "bool" hunt with a hidden prize at the end, all the disparate threads start to converge. The miniseries, with episodes written by Stephen King himself and directed by Pablo Larraín (director of Natalie Portman's Jackie Kennedy biopic Jackie and last year's stunning dark romantic comedy Ema) keeps its true intentions hidden, lingering on sweeping, atmospheric shots and scenes that go on for just long enough to get uncomfortable.
Loki (Disney+)
Season 1. 6 episodes. 
The MCU's favorite trickster is finally the star of his own show, wherein he's dropped smack-dab in the middle of a time-hopping mystery involving the most formidable power in the multiverse, and it's only a matter of minutes before he starts misbehaving. After Loki uses the Tesseract to bloop himself out of his own timeline in Avengers: Endgame, he's quickly apprehended by enforcers from the Time Variance Authority, who plan to delete him from existence now that he's unwittingly escaped his predestined path, but he's saved just in time by Mobius M. Mobius (Owen Wilson), an energy drink-guzzling TVA agent at the head of a case that, without revealing too much, he believes only Loki can solve. Loki allows its title character to take up more space as an antihero rather than sidelined as a tragic villain, and star Tom Hiddleston is so good at mixing bad guy Loki's growled, villainous threats with the panicked, out-of-his-depth bounding around he does here that you wonder why this franchise hadn't been letting him do that this whole time.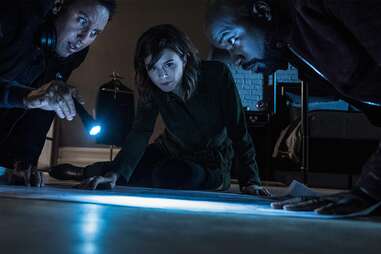 Evil (Paramount+)
Season 2. 13 episodes.
Evil continues to be the best show you're not watching (and if you are, good, I won't sic George the demon on you in the middle of the night). In its second season, the show explores the consequences of the bloody actions of Kristen Bouchard (Katja Herbers) at the close of Season 1, while also keeping the series light on its feet as the trio investigate stories of ifrit fire spirits, elevators to Hell, and UFO coverups. Its best episode to date is nearly dialogue-less, in which Kristen, David (Mike Colter), and Ben (Aasif Mandvi) are called to check out a posthumous sainthood in a monastery whose residents have taken a vow of silence—which, if broken, would release something horrible into their midst, naturally. The show retains its devilish charm even in its darker moments, and, in its new home on Paramount+ (the first season was broadcast on CBS), is allowed to go even deeper into the weird shit.
Season 1-3. 19 episodes.
American fans likely already know about the fantastic TV spinoff of Taika Waititi and Jemaine Clement's What We Do in the Shadows, but all this time there was another popular spinoff series we in the States never had access to—until now. The CW (with episodes available the day after on HBO Max) is finally broadcasting Wellington Paranormal, the first Shadows spinoff and a long-running hit in New Zealand since 2018. Unlike either version of What We Do in the Shadows, the main characters of Wellington Paranormal aren't supernatural at all. Rather, they're the two oblivious police officers, Minogue (Mike Minogue) and O'Leary (Karen O'Leary), tasked with investigating the city's paranormal disturbances. The show is more X-Files than Vampire Diaries, but the general conceit (and the joy of the show) is that Minogue and O'Leary rarely actually get that there's something weird going on at all.
Season 1, Part 1. 5 episodes.
Masters of the Universe: Revelation is meant to pick up pretty much where the original He-Man series left off, with the magical world of Eternia and Castle Grayskull temporarily safe from the evil Skeletor's (Mark Hamill) dastardly plans—but not for long. Unlike the original show, as Revelation is geared toward a slightly older crowd, there's a narrative arc to this show that takes the characters and worlds familiar to fans and totally upends them. There's a huge paradigm shift in the very first episode, characters level up their powers and personalities throughout the course of the season, and the main quest is driven by the best trope in the world: heroes and villains teaming up to achieve a common goal.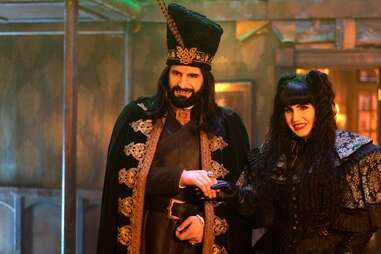 What We Do in the Shadows (Hulu)
Season 3. 10 episodes.
There are two major paradigm shifts that mark the beginning of the new season of the beloved vampire mockumentary series: the vampire hunter ancestry of Guillermo (Harvey Guillén) has been revealed, and he gets a status upgrade from familiar to bodyguard; and the vampires themselves—Lazslo (Matt Berry), Nadja (Natasia Demetriou), and Nandor (Kayvan Novak)—have been elected the new Vampiric Council for the American Eastern Seaboard (after most of the other candidates were killed at the end of the second season). But that hasn't stopped any of them from getting into trouble while crushing on fitness instructors or dating werewolves or getting too involved in the gambling debts of their human friends. Business as usual, in other words.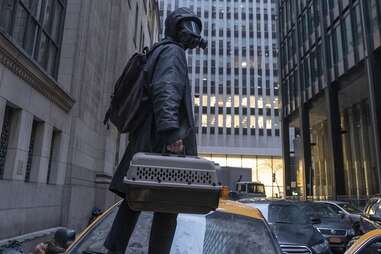 Season 1. 9 episodes.
From 2002 to 2008, Vertigo published Y: The Last Man, a little comic series you might have heard of, which imagined a world in which every mammal with a Y chromosome suddenly and catastrophically (and mysteriously) died, leaving the fractured remains of what was once a patriarchal society in their wake. The series, created by Saga's Brian K. Vaughan and artist Pia Guerra, follows wannabe Houdini Yorick Brown (Ben Schnetzer), the titular last (cis) man, who, along with his male monkey pet Ampersand, somehow survived whatever caused all the deaths, and becomes, potentially, the savior of the human race overnight. Long in development, the series adaptation of Y has finally arrived on FX, a post-apocalyptic yet colorful and vibrant retelling that tweaks just enough of the story to bring it from 2002 to 2021.
Limited series. 7 episodes.
To describe Midnight Mass, the new Netflix miniseries from Mike Flanagan (The Haunting of Hill House, The Haunting of Bly Manor) in too much detail would spoil the shocking, gory fun of it all, so we'll keep it vague. Riley Flynn (Zach Gilford) has just arrived back at the small island community in which he grew up, having served a few years in prison for a crime that has burdened him with guilt. He reconnects with childhood friend (and crush) Erin (Kate Siegel), and things seem to be looking up. But the arrival of an enigmatic new priest on the island, Father Paul (Hamish Linklater), casts an uncertain light onto the island town's future, as its residents begin to notice signs of the divine among them. The show is an unmistakable riff on Stephen King, but has an affection for looooong monologues and heartwrenching emotion that is all Flanagan's, another terrifying slam-dunk from horror film's newest master.
Season 1. 10 episodes.
Isaac Asimov's Foundation is not the sort of book you read and wonder, why hasn't this been adapted into a laser-blasting, spaceship-exploding blockbuster space opera yet? The best way to describe the first book in Asimov's centuries-spanning series is "groups of guys sitting in rooms and discussing events that you never actually get to see," which is not exactly material that lends itself to the neon light show sci-fi entertainment we've grown to expect, and not the sort of thing you want to hear about a new science fiction television series. But trust that Apple TV+'s adaptation of Foundation, set in the far future of humanity at the beginning of the end of a galaxy-wide empire, and starring Jared Harris as psychohistorian Hari Seldon, has pulled off the unenviable task of adapting the core ideas of what made the books so revolutionary in the first place, while adding new notes of emotion and excitement to expand the world.
Emma Stefansky is a staff entertainment writer at Thrillist. Follow her on Twitter @stefabsky.